Faculty of Engineering proudly presents our first international undergraduate classes in chemical engineering, geodetic engineering, urban and regional planning in 2023. We are happy to inform you that socialization for the international class program will be held in the middle of June. We will keep you updated for the event through our website and social media.
In the meantime, brief yourself for the program information through the poster below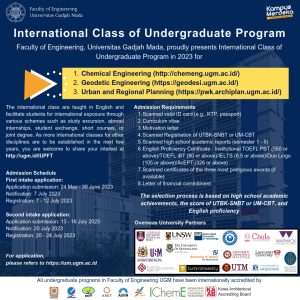 Furthermore, we are progressing to establish other classes in other engineering discipline areas such as (Electrical Engineering, Information Engineering, Civil Engineering) in the coming years. Do share your interest at http://ugm.id/IUPFT
COME & JOIN US!!